Bugaboo Cameleon 3+ Ready to Go Bundle – Aluminium/ Grey
£1,045.00
:
£

1,204.00 YOU SAVE

£

159.00
Enjoy our bundles fit for every discovery. From travel essentials to seasonal must-haves, we've bundled up for all your growing-family needs, so you're ready to hit the road from day one. We've paired our best accessories with our original pushchair—your Cameleon 3 Plus will be ready to go anywhere, anytime, in just a few clicks.
In Stock
Delivery Lead Time:
5- 7 Day Delivery
Description
Snug and comfy from day one – with super soft fabrics all round, your baby will feel just as snug and comfy as if they are being held by you.
Longer naps, comfy rides – nothing like the adjustable suspension to let your child sleep or enjoy the ride with comfort, or without getting startled by bumps on the way – no matter how fast they grow.
New discoveries everywhere, any time – when nap time is over, its time to explore the world and discover all its new shapes, sizes and colours. And no matter who is steering, easily reverse the handlebar any time your little co-pilot shows you where to go next.
Original smart design – The Bugaboo Cameleon has been helping families get out and explore the world since 2005 and is a firm favourite thanks to its versatility and ease of use. The Bugaboo Cameleon 3 Plus is our latest version, offering all the practical features parents already know and love in a stroller, now with a redesigned rotating carry handle.
Easy going strolls – the original go-anywhere pushchair makes a trip to the shops or a walk in the woods easy-going fun. You can always connect with your child by flipping the handlebar over the seat to face them.
Versatility for your off-road adventures – flipping the reversible handle will also make it easy to change strolling direction and go into all terrain mode. Put the bigger wheels in front to maintain grip when sidewalks turn to sand.
Brand
Bugaboo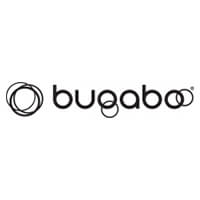 Includes
If you choose this bundle, you'll also get the Turtle Air by Nuna car seat with matching adapters for easy pairing with your pushchair. It also includes a footmuff, the changing bag with changing mat, and a cupholder.
Dimensions
General
Age range
0 – 4 years old
Category
Comfort, all terrain pushchair
Dimensions
Min – Max. adjustable handlebar height
101 cm – 112 cm
Capacity
In the underseat basket
6 kg/22 liters