EggZ Stroller – Seagrass
£399.00
This item will be released 30 June 2022.
At egg® they have always been smitten with the smallest of details. That button; this stitch of fabric, those buckle clasps, the treads on that tyre. It's the dozens of tiny individual decisions that make the complete finished product so perfect. After all, everything they do is based on looking after babies, the smallest of people, so every miniscule part is important and makes a difference.
The EggZ – They started with everything that is loved about the larger egg2® stroller; such as the easy push and smooth ride, the exquisite tailoring of the fabrics, the curves of the chassis. They focussed on maintaining the maximum comfort for your precious passenger and the ease of use that has become one of their hallmarks.
The end result is big stroller features and functionality, in a small package – Introducing the eggZ®.
Delivery Lead Time:
End of June
Description
Handle height 103cm & fold mechanism – hand stitched
Backpack bag hooks on either side
Three-position recline, suitable from birth
Iconic egg central hub
All-round suspension, with quick release rear wheels
Spacious shopping basket
Swivel front wheels
Two position calf adjustment
Removable gated hand stitched bumper bar
Five-point magnetic safety harness
Large extendable canopy with UPF 50+ protection andventilation window
Flip-flop friendly brake with traffic light indicator
Easy one hand recline mechanism
Wipe clean calf rest
Removable headrest
Integrated footrest
Chassis, Basket & Wheels
A unique curved chassis profile invites the very clever z-fold system that is at the heart of the stroller. A deceptively simple one-hand process using discrete buttons on the hand-stitched handlebar ends with a small freestanding fold. The handlebar area also houses two convenient hooks for hanging your backpack.
The extendable basket offers great length and depth on such a small stroller and can easily fit everything you need for your next expedition or offers more than enough space to bring back the groceries.
Compact puncture free tyres feature a unique egg-shaped tread pattern, with the stroller leaving its mark wherever it goes. Designed for superior handling and the optimum smooth ride, eggZ® has been fitted with puncture free PU tyres as standard. The brake pedal is flip flop friendly with an extra visual 'traffic light' green and red indicator.
Canopy & Seat
Suitable from birth with a 3-position recline, the eggZ® seat offers a cocoon like environment for baby and a sumptuous sit for toddlers with its soft-touch fabrics and deep padding. A simple one-touch handle recline makes life much easier than the strap recline systems on other strollers, and ease of use is pushed to the max with our ingenious magnetic buckle system on the harness.
The seat canopy features a 'hidden' ventilation net, which can also be used as a viewing window, and is easily extended to offer large coverage with UPF 50+ sun protection.
Brand
egg stroller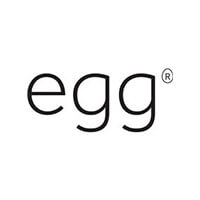 Includes
EggZ Stroller
EggZ Raincover
COMPATIBLE ACCESSORIES – NOT INCLUDED
egg2 Backpack
egg2 fur liner
Dimensions
Suitable from birth to 22kg.
Weight – 9.5 kg
Stroller Folded (Bumper Bar Removed) – W48 x H67.5 x D30cm
Stoller Unfolded – W48 x H111 X D84.5cm
Seat Width – 32cm
Backrest Height – 48cm
Handle Height – 103cm
Basket Capacity – 3kg