Mamas & Papas Melfi CotBed – Midnight Blue
Create a luxurious space to sleep in your child's nursery with our Melfi Cotbed. The cotbed can be converted into a toddler bed to take them up to four years old, and comes with three cot base heights, so you can adjust your child's position as they grow making it easier for parents as they lower their child in at night.
Embracing stylish silhouettes with an on-trend colour palette and brushed metallic handles, Mamas & Papas' Melfi nursery furniture collection is all about smart storage and striking style. Designed and developed in-house at Mamas & Papas.
And if your nursery is short on space, why not buy the coordinating Cot Top Changer/Under-Bed Drawer? An additional storage drawer that's perfect for keeping all your baby essentials tucked away cleanly, and doubles as a cot top changer.
In Stock
Delivery Lead Time:
10-14 Day Delivery
Description
You'll need to buy a separate 140 x 70 x 10cm mattress to use with this cotbed.
Product Features
Designed & developed in-house at Mamas & Papas
Coordinates with our Melfi furniture collection
Coordinating Cot Top Changer also available
Brand
Mamas & Papas
Mamas & Papas at Simply Baby, Lancaster
Simply Baby believe in offering the most reliable products from the most renowned brands to customers in Lancaster, Preston, Blackpool and beyond, and Mamas & Papas certainly fits the bill. At the heart of their values is creating safe products that bring style and confidence to parenting, letting you flourish with a unique sense of identity. Since 1981, Mamas & Papas have gained global recognition as a result of understanding families and their needs; products that are designed by the very parents that use them makes for lasting functionality that meets a practical and pleasing design.
Favourable Features from Mamas & Papas
If you are searching for the perfect pushchair or carrycot that can offer you functions ranging from supportive head features to larger seats for extended use, Mamas & Papas have you covered. These products have been designed with
you
in mind, with careful thought about the extras that make all the difference, so you don't have to. We believe that a pram shouldn't restrict routine activities, and pushchairs such as the Mamas & Papas Occaro range have been ergonomically designed to be suitable for everyday use. The robust frame offers greater stability and support on the move, and is equipped with dual suspension and large wheels for excellent manoeuvrability. With a pram ready for the outside, the sun shouldn't stop you in your tracks; furnished with a built in UPF 50+ hood, as seen in the Sola2 collection, your baby is protected from harmful rays of sunlight. As seen in the Occaro Carrycot and pushchairs (available to purchase separately), comfort is a focus of this design from concept through to creation. With extra-cushioned interiors for seats and mattresses, you can keep your baby calm and relaxed, as well as maintaining a regulated temperature with the optional hooded air vent. Not only is this
ideal
for the baby, but the front-releasing handle makes for easy moving, with the fashionably neutral colour options adding an air of style and sophistication.
Simply Baby Lancaster: Proud Mamas & Papas Stockists
As our Mamas & Papas range can be purchased online or you can visit us in-store in the heart of Lancaster to see the collection in all of its beauty. If you would like further information before travelling to the store, don't hesitate to call us on 01524 66888 or email us at
info@simplybabylancaster.co.uk
. Alternatively, you can make use of our
comment box
and we will get back to you as soon as we can.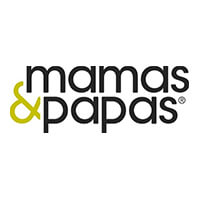 Dimensions
Product Specifications
Age Suitability: Cotbed: Birth – 4 years approx Dimensions: Cotbed: H89 x W75 x L145cm approx
Colours: Foil Wrapped, Melfi Midnight Blue & also available in grey
Compositions: Engineered Board
Care & Maintenance: Wipe clean with a damp cloth
Health & Safety: Cotbed: British Safety Standard: BS 8509:2008+A1:2011 European safety standard: BS EN 716-1