Mamas & Papas Event!
Mamas & Papas Ocarro Complete Cloud Z Bundle – Everest
£1,499.00
:
£

1,759.00 YOU SAVE

£

260.00
This Everest Edition of our Ocarro pushchair is inspired by contemporary outerwear for adventure-loving families. Crafted from high performance material in soft sage grey tones, it's finished with a gunmetal chassis and quilted details, with hood linings that take inspiration from all-terrain adventures in the great outdoors.
With dual suspension and tough tyres, you really can take it anywhere. It's got a large, padded seat, comfy cushioned chest pads and head-hugging pillow, so your little one will always enjoy a comfy ride – perfect for snoozes on-the-go. And when it comes to packing your Ocarro away in the car or at home, you can quickly fold it using one hand, then store it neatly away thanks to its compact design.
In Stock
Delivery Lead Time:
Approx 5-7 Days Delivery
Description
Product Features
Lie-back seat can be used from birth to support natural sleep
The padded chest pads and head hugger means a comfy ride for baby
Shelter your little one with a large extendable hood
Get a handle height that suits you with the adjustable bar
Stay safe at night with reflective wheel rims
Puncture-proof tyres will protect your wheels on any terrain
Stow away your shopping with a big easy-to-access basket
Ergonomically-designed chassis can easily tackle kerbs
Keep your adaptors and rain cover handy with the mesh pockets
Carrycot:
– Lie-flat position supports natural, healthy sleep
– Magnetic apron tucks baby away quickly and quietly
– Front-release handle lets you move your carrycot with ease
– Hood's optional air vent keeps the cot cool and comfortable
– Cushioned mattress offers even more comfort for naps on the go
– Compatible with the Ocarro pushchair for those early months.
Carrycot Includes: Carrycot surround, hood, apron, mattress and internals
Give your newborn a comfy place to sleep whilst you're out and about with this carrycot. Designed to co-ordinate with our all-terrain Ocarro pushchair, it's crafted from soft, brushed flannel fabric with a chambray quilted hood lining, and is finished with beautiful teak leatherette details. With a cushioned mattress and a lie-flat position that supports a natural sleeping position, it's ideal for naps on-the-go. The magnetic apron means you can tuck baby away quickly and quietly, whilst the hood's optional air vent keeps them cool and comfortable.
Cybex Cloud Z Car seat and Z Base
Z-Line Modular System with base (included)
Ergonomic lie-flat position when attached to a chassis
180° rotation mechanism for easy access
Integrated Linear Side-impact Protection
Adjustable harness height
From birth to approx 15 months
UPF 50+ Sun canopy included
Base Z included
Brand
Mamas & Papas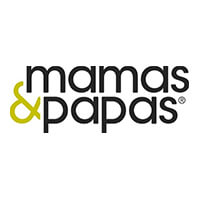 Includes
Stroller
Carrycot
Footmuff – Everest
Changing Bag – Everest
Cup Holder
Car Seat Adaptors
Fleece lined Handmuffs
Parasol
Cybex Cloud Z Car Seat – Black
Cybex Z Base
Dimensions
Product Specifications
Age Suitability: Pushchair: Birth to 22kg or up to 4 years, Carrycot: Birth to 9kg
Weight: Pushchair: 13.7kg, Carrycot: 5.2kg
Compositions: Pushchair: Hood Outer 100% Polyester, Lining 50/50 Poly Cotton, Seat 100% Polyester, Carrycot: Outer 100% Polyester, Internals and Mattress 50/50 Poly Cotton
Care & Maintenance: Pushchair: Wipe clean only, Carrycot: Wipe clean only except mattress fitted sheet which is machine washable
Dimensions: Pushchair: L:101 x W:59 x H:101cm, Folded: L:78 x W:59 x H:40cm, Carrycot: L:76 x W:39 x H:59cm
Car Seat Specifications:
• L 640 mm / W 430 mm / H 390–560 mm • Car Seat 4.8 kg