Sale!

Mamas & Papas Event!
Mamas & Papas Ocarro Complete Cloud-Z i-Size Bundle – Onyx (New)
£1,399.00
:
£

1,902.00 YOU SAVE

£

503.00
Shimmer as you stroll on those all-terrain adventures, with the Mamas & Papas Ocarro. Mamas & Papas Pushchairs are robust comfort with the compact one hand fold – Go further with the Mamas & Papas Ocarro, the ultimate all-terrain. This Cloudz bundle includes everything from carrycot. pushchair, matching accessories, Cybex Cloudz car seat and base.
In Stock
Delivery Lead Time:
Delivery Approx 7-10 Days
Description
Product Features
Lie-back seat can be used from birth to support natural sleep
The padded chest pads and head hugger means a comfy ride for baby
Shelter your little one with a large extendable hood
Get a handle height that suits you with the adjustable bar
Stay safe at night with reflective wheel rims
Puncture-proof tyres will protect your wheels on any terrain
Stow away your shopping with a big easy-to-access basket
Ergonomically-designed chassis can easily tackle kerbs
Keep your adaptors and rain cover handy with the mesh pockets
Carrycot:
– Lie-flat position supports natural, healthy sleep
– Magnetic apron tucks baby away quickly and quietly
– Front-release handle lets you move your carrycot with ease
– Hood's optional air vent keeps the cot cool and comfortable
– Cushioned mattress offers even more comfort for naps on the go
– Compatible with the Ocarro pushchair for those early months.
Carrycot Includes: Carrycot surround, hood, apron, mattress and internals
Give your newborn a comfy place to sleep whilst you're out and about with this carrycot. Designed to co-ordinate with our all-terrain Ocarro pushchair, it's crafted from soft, brushed flannel fabric with a chambray quilted hood lining, and is finished with beautiful teak leatherette details. With a cushioned mattress and a lie-flat position that supports a natural sleeping position, it's ideal for naps on-the-go. The magnetic apron means you can tuck baby away quickly and quietly, whilst the hood's optional air vent keeps them cool and comfortable.
Cybex Cloud Z Car seat and Z Base
Z-Line Modular System with base (included)
Ergonomic lie-flat position when attached to a chassis
180° rotation mechanism for easy access
Integrated Linear Side-impact Protection
Adjustable harness height
From birth to approx 15 months
UPF 50+ Sun canopy included
Base Z included
Brand
Mamas & Papas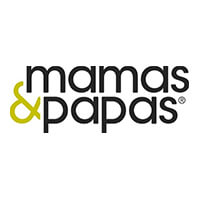 Includes
Bundle includes:
Pushchair,
Grey fleece liner
Carrycot,
Cloud Z Car Seat,
Car Seat Base,
Changing Bag,
Footmuff,
Parasol,
Adaptors
Universal Cup Holder,
Dimensions
Age Suitability: Pushchair: Birth up to 22kg or 4 years, Carrycot: Birth – 9kg/20lb, Car Seat: Birth – 18 months approx (45-87cm), Footmuff: Birth to 15kg
Dimensions: Pushchair: H: 101 x W: 59 x L: 101cm Approx. Folded: H:40 x W: 59 x D: 78cm approx, Carrycot: H: 59 x W: 37 x L: 75cm approx, Car Seat: L: 67 X W:44 X H:38 cm, Car Seat Base: : L 665 x W 405 x H 365, Changing Bag: H: 32cm W: 45cm D: 20cm approx, Footmuff: H: 100 x W: 52 x D: 18cm approx,
Weight: Pushchair: 13.5kg approx, Carrycot: 4.4kg approx, Car Seat: 4.8kg, Car Seat Base: 7.7kg, Footmuff: 0.48kg