Bugaboo Lynx Aluminium Chassis / Black Fabrics / Black Canopy
£795.00
Meet the Bugaboo Lynx—the lightest full-size pushchair. Designed to help you to navigate life on the go easily, it's super light and amazingly strong. The responsive one-hand steering makes it effortless to push—no matter the terrain or if it's fully loaded.
In Stock
Delivery Lead Time:
5- 7 Day Delivery
Description
Super light and amazingly strong. At only 20.7 lbs, its nimble design makes it ready for all your daily adventures. It can accommodate a growing child up to 50 lbs, plus 22 lbs in the under seat basket. You can keep all your essentials, toys and groceries easily to hand.
The Bugaboo Lynx is very easy to maneuver, thanks to the responsive one-hand steering. With a smooth suspension, it is effortless to push, no matter the terrain or however fully-loaded it is. The large wheels offer a comfortable ride for your baby wherever you go, over every bump or through rougher terrain.
The Bugaboo Lynx was designed combining smart engineering and style. This item comes with aluminum chassis, black seat fabric, and black sun canopy.
The reversible and reclinable seat comes with three reclinable positions, and a 5-point harness; super easy to use, buckle up or unbuckle in one click and you're ready to go. The extra large sun canopy offers sleep tranquility and shade even when the sun is low. Folding is very practical—choose the one-piece self-standing fold, or the ultra-compact two-piece option, ideal for storage at home or in your car.
Compatible with many car seats, for a smooth and effortless transition from stroller to car,  it is also compatible with the Bugaboo Turtle car seat, featuring our signature smart visor and peekaboo window. Alternatively, you can combine it with the Bugaboo Lynx carrycot, offering your baby all the comfort they need during their first months.
Large under seat basket
Ultra-compact two-piece fold
Easy one piece, self-standing fold in any configuration
Extra large sun canopy including a peek-a-boo window offering protection & tranquility
Durable and strong, can hold a child up to 50 lbs / 23 kg with a storage capacity of 22 lbs / 10 kg.
Nimble & sleek design
Super light and amazingly strong
Brand
Bugaboo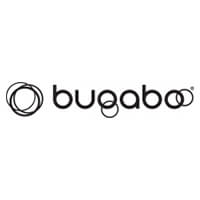 Includes
What's in the box:
– Chassis
– Wheels
– Seat frame
– Rotating carry handle
– Seat hardware
– Seat fabric
– Comfort harness
– Footrest
– Sun canopy wires and clamps
– Sun canopy
– Handlebar grips
– Wheel caps
– Under seat basket
– Rain cover
Dimensions
Packaging Dimensions
32.83 x 22.28x 12.59
Folded Dimensions
87.5 x 53 x 31 cm
Weight
20.72 lbs