SnuzSurface Adaptable SnuzKot Mattress
£139.95
Introducing SnuzSurface, the next generation baby mattress that adapts as they grow! With a patent-pending TripleCore™ design, easily change the layers inside to provide your little one with the best support for each stage of their development.
In Stock
Delivery Lead Time:
2-3 week delivery
Description
Adaptable baby mattress with TripleCore™ technology
• Suitable from birth to approx. 7 years
• Easily change the layers inside for a support to suit your child's age:
o Support 1 (Baby 0-12m): SnüzSurface comes set up ready for use in the baby support stage, with a firm, flat surface that's recommended by sleep experts
o Support 2 (Toddler 12m-3yrs): As your baby grows, so does your mattress. Simply unzip and re-order the foam layers inside for a medium-level, progressive support
o Support 3 (Child up to 7 years): When it's time, switch the layers to account for your child's changing size and weight
• Removable washable cover
• Waterproof surface
• Pocket spring comfort and durability
• Anti dust-mite
How it works
To change the level of firmness simply unzip the mattress cover and re-order the comfort layers inside; it's that simple.
SnuzSurface comes set up ready for your baby, with a firm, flat surface that's recommended by safe sleep experts. As your baby grows, so does your mattress. Simply unzip and re-order the layers inside for a comfortable, progressive support. Then when it's time, switch the layers to take into account changing size and weight of your child.
Specifications
• Size: 68x118x11cm
• Oeko-Tex 100 certified materials (cover & foam layers)
• Removable washable waterproof cover (40 degrees)
• Conforms to BS EN 16890:2017
• 2-year guarantee
Care & Guidance
Ensure you open the mattress as soon as you receive it, using the safety cutter provided. Leave for 7 days to let your mattress unroll and take form.
Always ensure your baby sleeps on the white waterproof surface. Do not turn your mattress.
We recommend using a waterproof mattress protector for added convenience when washing.
Your mattress comes set up ready for use in the baby support stage. Instructions for how to change the comfort layer for toddler and child stages are included on a label inside the mattress.
Brand
Snuz
Good quality beds, bedding and bedding accessories are designed to make your life easier when it comes to looking after your newborn. With our fabulous range of Snuzpod bedding accessories, you can be confident that your baby is getting the best start in life.
Peace of Mind with Snuzpod Bedside Cribs
As parents, you probably don't want to be separated from your child in the beginning. With Snuzpod Beside cribs, you can have your baby sleeping soundly by your side. Their fantastic 3 in 1 crib is designed to give you the power to choose. It can be adapted to be used as a bedside crib, which is perfect for them first few weeks and it can also be used as a standalone crib. During the day, you can even use it as a Moses basket, perfect for letting your baby snooze wherever you are in the house. The Snuz Crib Bedding set comes complete with two fitted sheets and a reversible blanket, all delicately crafted to give your baby a comfortable and secure night's sleep.  The bedding is made using lightweight materials which are brilliant for helping to control your baby's temperature, so you don't have to worry when putting your baby down for a sleep.
Contact Us Today for More Information
Give your baby a comfortable and stylish introduction to life with the brilliant bedding accessories from our popular Snuzpod range. All parents understand the anxious feeling you get when putting your newborn down for a nap, which is why the cots and bedding are designed to give you complete peace of mind. To find out more about any of the Snuzpod bedding accessories we have available or to ask questions about any of the items we have here at Oh So Baby, please don't hesitate to contact us. You can give us a call on 01524 61141 and a member of our team will be more than happy to help you out.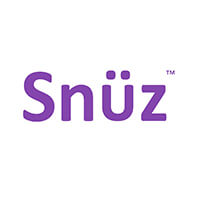 Dimensions
Size: 68x118x11cm