Venicci Gusto 2.0 2 in 1 Bundle – Biscotti
£719.00
Venicci Gusto 2.0 prams are a new generation of prams for those who value a combination of style, and comfort. The eco-leather details used make the pram look classy and elegant. The wheels, with shock absorption system ensure a comfortable ride in both city and off-road walks. The compact, practical changing bag contains all the things necessary for mother and baby during everyday walks.
In Stock
Delivery Lead Time:
Delivery 7-10 Days
Description
Functional and stylish changing bag
The changing bag attached to the pram will allow you to have all the accessories needed during walks. Our designers took great care of the convenience, the Gusto changing bag is spacious and divided into sections that will facilitate storage and quick access to your belongings.
Quicker and easier folding
We used very simple folding in the Gusto model. You can fold the chassis by pressing two buttons on the frame of the pram. Thanks to the use of unique adjustable side shock absorbers in the wheels, it's possible to adapt them to drive on even ground (Hard) or unevenness (Soft).
Unique design – convenient solutions
In the carrycot you can transport the baby in a very comfortable position – thanks to the ventilation nets and a wide range of adjustments, you can provide your baby with a pleasant walk on hot or cold days. On the other hand, the SAS and DMS systems make driving the pram comfortable even in places without a hard surface.
Brand
Venicci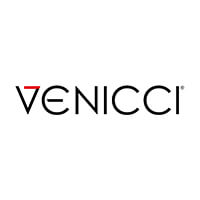 Includes
What's included?
Frame,
Carrycot,
Seat unit,
Changing bag,
Footmuff,
Raincover,
Mosquito net,
Cup holder,
Solid wheels,
Back wheels covers
Dimensions
CARRYCOT
L: 83/99CM | W: 61CM | H: 110CM
WEIGHT (with chassis): 12.7KG
SUITABILITY: 0 – 12KG
SEAT UNIT
L: 78/96CM | W: 61CM | H: 112CM
WEIGHT (with chassis): 13.3KG
SUITABILITY: 0 – 15KG
CHASSIS (WITHOUT WHEELS)
L: 82CM | W: 50CM | H: 25CM
WEIGHT: 4.9KG