Venicci Ultralite Car Seat – Black
£149.00
Venicci ULTRALITE stands for the highest class of safety and for uniquely lightweight design in 0+ (0 – 13 kg) safety seat category. The innovative composite material makes the shell very light (2.5kg) but it also absorbs a substantial part of energy during collisions, providing perfect protection for the baby. Venicci ULTRALITE is equipped with the unique pad, designed in cooperation with physiology and child development experts, providing safe and more comfortable positioning of the child in the safety seat. Application of this innovative technology vastly increases the safety of the child and it enhances correct physiology of baby's body.
In Stock
Delivery Lead Time:
Approx 10-14 Day Delivery
Description
Furthermore, the efficiency of child protection using ULTRALITE safety seat has been confirmed by means of tests performed in many European research laboratories. They have proven that ULTRALITE largely exceeds the requirements of i-Size standard. Additionally, one-point attachment system connecting seat harness with IQ ISOFIX base provides full integration with car's ISOFIX system.
Car seat is compatible with every Venicci chassis if Maxi-Cosi adapters are used.
Car seat was tested with the following chassis: Mamas & Papas Ocarro, Bugaboo, Cameleon 3, Egg, iCandy Peach, Oyster 3.
DSS – Dynamic Stress Shield
DSS in Venicci ULTRALITE safety seat is the result of our innovative approach and research in the domain of design, minimizing the risk in case of dangerous side collisions. As opposed to other safety seats, where energy absorption zones are only partial, in case of ULTRALIE the whole body of the seat absorbs the energy of the impact and reduces G-force, diminishing the forces applying to the child. As the seat base shell is made of functional EPP ARPRO® composite material, solid polypropylene and polyamide with fibreglass, this means that the whole seat base is resistant to impact and neutralizes it, creating a protection for the child.
IQ ISOFIX, confidence through safe installation
Most parents who look for child safety seat check whether the product is equipped with ISOFIX. However, not everybody knows what ISOFIX actually is and what is so different about it as compared with other solutions. Some don't even realize that their own car has an ISOFIX system. Since 2006 it is obligatory to have such mount in each new car model that has been approved for sale within European Union. Moreover, ever since 2011 ISOFIX has been present in all cars that are available on the market. What is ISOFIX actually? To put it short: ISOFIX is currently the most popular system for mounting child safety seat in the car. ISOFIX is composed of two simple latches located between the child seat base and car seat/back seat backrest and attached directly to the body of the car. In case of back seat of the car we always have two such latches, which makes the total of four points of attachment. Depending on car model they are more or less visible and – when not used – they are sometimes closed for aesthetic reasons. Surely, currently this is not only the most popular but also the fastest system of safety seat mounting.
Brand
Venicci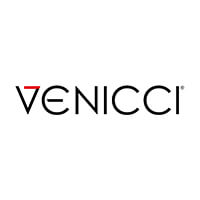 Dimensions
Weighs – 2.5 kg