Out of stock

** New **
Bugaboo Donkey 5 Twin Complete – Graphite / Stormy Blue
£1,660.00
Keep your twins together from day one with the new and improved side by side double pushchair for twins. Convert the pushchair from single to twin mode in just three clicks and let your little co-pilots share new experiences from their very first stroll. The reversible seats let twins face each other, face you or face the exciting path ahead. It's smaller than you think, and ready to go with just a one hand push.
Out of stock
Description
The new Donkey 5 is the perfect side by side pushchair and pram system for twins!
Go from Mono to Duo in 3 simple clicks, allowing you to create a more compact fold.
Easy to turn with a single hand, even as your toddlers grow.  Thanks to the Donkey 5 large swivel wheels and tight turn radius, you can easily navigate those tight twists and turns wherever you need to go!  Plus, the large puncture proof wheels ensure that every stroll is as smooth as a walk in the park.  It is also all terrain too, making it perfect for all sorts of adventures, big or small, city or countryside.
The Donkey 5 is smaller than you think and can fit through most doorways and with the new easier folding and unfolding capabilities, you are ready to stop and start adventures in a flash.
The Donkey 5 has an enhanced carrycot / bassinet, with breezy mesh panels that can be revealed quickly for enhanced breathability and air circulation whilst your baby is sleeping. When closed, the bassinet keeps your baby warm, safe and protected from the elements thanks to its insulated padding.
Elevated seat and carrycot mean your little ones are never out of reach
Improved self-standing one piece fold makes storing the pushchair easier than ever
Breezy carrycot & aerated mattress keep your baby comfy no matter the weather
Large puncture proof wheels for smooth strolls on all terrains
Integrated wheeled board and cupholder attachment points for your favorite accessories
The carrycot fabric comes with a carrycot apron
Seat fabrics include the new comfort harness.
Aerated Mattress. Made from high performance 3D mesh to regulate your baby's temperature. Includes mattress foam, mattress cover and aerated inlay.
With an understorage shopping basket and side basket included, it offers plenty of storage options for your strolls. Maximum capacity 22 lbs in each basket.
Extendable sun canopy with viewing window
Raincovers included
Brand
Bugaboo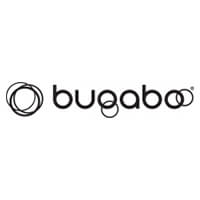 Includes
2 x Carrycot fabric with apron
2 x  Seat fabrics
2 x carrycot / seat frames
2 x Sun Canopy with wires & clamps
Side luggage basket
Underseat basket
5 point comfort harness
2 x Bumper bars
Dimensions
General
pushchair weight: 32.8 lbs (Twin configuration)

Stroller width: 29 in (Twin configuration)

Age range: 0 months – 4 years
Dimensions
Front wheels: 10 in

Rear wheels: 12 in

Min – Max adjustable handlebar height: 33.8 in – 41.7 in
Capacity
On the seat: 22 kg/48.5 lbs (per seat)

In the underseat basket: 10 kg/22 lbs

Side luggage basket: 22 lbs
Folded
Compact two-piece fold: 35 x 23.6 x 13.8 in (L x W x H)

One-piece self-standing fold: 20.5 x 29 x 35.4 in (L x W x H)
In use
Lowest handlebar position: 33.5 x 29 x 43.7 in (L x W x H)

Highest handlebar position: 41.7 x 29 x 43.7 in (L x W x H)