Sale!

Mamas & Papas Baby Snug with Activity Tray – Eucalyptus
£59.00
Baby Floor Seat with Detachable Play Tray
Baby Snug is a supportive seat that helps little ones get accustomed to sitting up on their own. With a removable insert, it can be adapted to suit your child as they grow. You can start using the seat as soon as baby supports their own head, and it will take them through their first year and beyond. Designed with a special wide base for enhanced stability the snug is an ideal first chair for your baby.
With the Baby Snug, your child is supported as they sit and play, so you can interact with them more closely and develop a stronger bond. It comes complete with a removable Play Tray, so baby can enjoy entertaining themselves while you watch. With 8 interactive features and 6 different toy arrangements, there's a lot to keep them busy.
In Stock
Delivery Lead Time:
1-2 Day Delivery
Description
The easy clean design lets you wipe the seat down with ease
Lightweight and portable, you can entertain baby in any room of the house
The removable tray can be placed on or taken off in a simple click
Product Features
Large suction pad on the Play Tray ensures that toys are secured to the tray
Crotch post to avoid baby slipping and provide extra support
Play Tray includes 6 interactive features including: a beaded loop, spinning flower, twisty bendy stalk, a teether and picture book with baby safe mirror
Remove the seat insert to adjust the size as your baby grows
Brand
Mamas & Papas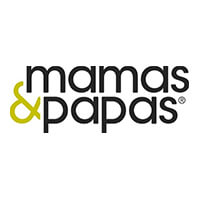 Includes
Baby Snug
Activity Tray
Dimensions
Age Suitability: Suitable from 3 months (or when baby is able to support their own head) to 12 months+ approx.
Dimensions: H25 x W43 x D43cm approx.
Weight: 1.7kg (without tray) 2.5kg (with tray)
Health & Safety: EN 16120:2016
Care & Maintenance: Wipe clean only
Safety Warnings
Use only on the floor
Never use on an elevated surface
Never leave the child unattended
Do not use until the baby can support their own head
This seat should be used only for short periods of time
The tray does not form part of the containment and has been purposefully designed to be removed easily
Not intended to be a child safety restraint
Adult assembly required