Mamas & Papas Booster Bud Booster Seat – Blossom
£55.00
Easy, secure feeding and fun anywhere
Let your little one join in at mealtimes with the Baby Bud booster seat. It attaches easily to most chairs so baby can sit at the big table. The Mamas & Papas Baby Bud is the perfect companion when your little one starts weaning, whilst the removable seat insert to add space for growing babies. A padded seat insert keeps your little one comfortable as they learn to eat independently.
As baby grows, remove the insert to use the booster seat for longer. Lock the tray into place for an easy mealtime space. The 4 adjustable non-slip feet let you position baby safely and securely. Attach the booster seat to any dining chair using the straps whilst the extra-safe harness keeps your little one in place for further peace of mind.
In Stock
Delivery Lead Time:
Approx 2 - 3 Days
Description
Soft and comfortable with removable tray
Adjustable non-slip feet and harness
The built in carry handle makes it easy to transport, making it perfect for family meals out
Brand
Mamas & Papas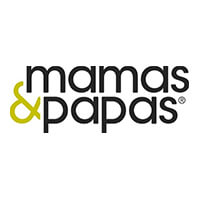 Includes
Baby Bud
Removeable Snack Tray
Dimensions
Dimensions: H31 x W36.5 x D32cm
Weight: 1.6kg/3.5lbs approx.
Age Suitability: This product is intended for children able to sit unaided (minimum 6 months) and up to 36 months or a maximum weight of 15kg
Health & Safety: EN 16120:2016
Care & Maintenance: Wipe clean only
Safety Warnings:
Never leave the child unattended
Always use the restraint system and ensure it is correctly fitted
Always use the chair attachment system and ensure it is correctly fitted before use
Always check the security and the stability of the product on the adult chair before use
Do not use this product on stools or benches
Prevent serious injury or death. Do not use in a motor vehicle
Position the adult chair with the chair mounted seat placed in a position where the child is not able to use its feet to push against the table or any other structure as this can cause the adult chair supporting the chair mounted seat to tip over
Do not use the chair mounted seat if any part is broken, torn or missing
Do not use any replacement parts or accessories other than those approved by or supplied by Mamas & Papas
Always use the restraint system and the chair attachment system
Always check the security and the stability of the product on the adult chair before use
Do not use in water or as a bath seat
Do not use as floor chair
Always use with the feet (B) provided