Sale!

SnuzCot Skandi 2 Piece Nursery Furniture Set – Natural
£746.00
:
£

848.00 YOU SAVE

£

102.00
With 15 cot bed and changing unit styles and colours to choose from, you can create your dream nursery with the SnüzKot Collection. SnüzKot grows with your child from birth to approx. 10 years, providing a comfortable and cosy environment as a cot before converting into a stylish toddler bed for use up to four years old. When extended to a Junior bed (kit available separately) your child can keep the same bed they love for up to ten years. Other helpful features include three mattress height settings for ease of access and a low level bed which helps your toddler when getting in and out.
In Stock
Delivery Lead Time:
Approx 10-14 Day Delivery
Description
Skandi Changing Unit features three spacious drawers and a useful changing area with a removable frame, ideal for when baby becomes a toddler and they need a standalone dresser. Matching changing mat available separately.
• Two-piece furniture set includes SnüzKot Skandi Cot Bed and matching Changing Unit
• Modern and minimal Scandinavian design
Cot Bed:
• From birth to 10 years (when used with separate extension kit)
• Converts from cot to toddler bed
• Three mattress base height settings
• Compact and cosy design for every nursery size
• No MDF or veneers
• Solid Beech frame
• SnüzKot Premium pocket sprung mattress 68x117cm available separately
Changing Unit/Dresser:
• 3 spacious drawers
• Features removable changing frame
• Converts into standalone dresser
 
Brand
Snuz
Good quality beds, bedding and bedding accessories are designed to make your life easier when it comes to looking after your newborn. With our fabulous range of Snuzpod bedding accessories, you can be confident that your baby is getting the best start in life.
Peace of Mind with Snuzpod Bedside Cribs
As parents, you probably don't want to be separated from your child in the beginning. With Snuzpod Beside cribs, you can have your baby sleeping soundly by your side. Their fantastic 3 in 1 crib is designed to give you the power to choose. It can be adapted to be used as a bedside crib, which is perfect for them first few weeks and it can also be used as a standalone crib. During the day, you can even use it as a Moses basket, perfect for letting your baby snooze wherever you are in the house. The Snuz Crib Bedding set comes complete with two fitted sheets and a reversible blanket, all delicately crafted to give your baby a comfortable and secure night's sleep.  The bedding is made using lightweight materials which are brilliant for helping to control your baby's temperature, so you don't have to worry when putting your baby down for a sleep.
Contact Us Today for More Information
Give your baby a comfortable and stylish introduction to life with the brilliant bedding accessories from our popular Snuzpod range. All parents understand the anxious feeling you get when putting your newborn down for a nap, which is why the cots and bedding are designed to give you complete peace of mind. To find out more about any of the Snuzpod bedding accessories we have available or to ask questions about any of the items we have here at Oh So Baby, please don't hesitate to contact us. You can give us a call on 01524 61141 and a member of our team will be more than happy to help you out.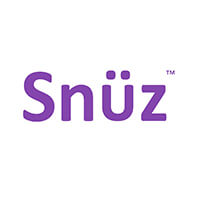 Includes
Changing Unit/ Dresser
Cot Bed
Dimensions
Cot Bed:
• From birth to 10 years (when used with separate extension kit)
• External Cot Bed size: W72 x L133cm
• SnüzKot Premium pocket sprung mattress 68x117cm available separately
Changing Unit/Dresser:
• Dimensions: H96 x W85 x D55cm