Becky's Top 10 Car Safety Tips
Here at Simply Baby, we don't just love to keep our shop full of exciting goodies for you and your family, but we like to keep our knowledge in top form as well, especially when it comes to the safety of your child or children.
All children, no matter how young or old, will spend time in the car at some point and this can come with some responsibilities and a little bit of know-how. But, don't worry, because one of our valued members of staff, Becky, is not only a hard worker in our shop, she is also our in-house expert in car safety with a range of qualifications and knowledge in this field. Want to know Becky's top 10 safety tips?
Are You Using the Correct Seat Group for Your Child?
Many car seats are based on the weight of the child, whereas other newer models such as the I-size seat are based on the child's length. However, be careful that you are not moving your child out of their seat too early and moving onto the next stage before time, especially when using a front-facing model.
While it may seem like your child will have more room with a forward-facing seat, many injuries are caused as a result of moving a child into a forward-facing car seat too early. Models such as the Joie Spin, Maxi Cosi 2Way Pearl and the BeSafe Modular system give a safer option of rear facing, which last a lot longer – up to the age of 4!
IsoFix Base Check
If you are using an IsoFix base, be sure to check that your green light indicators are on before every trip. This shows you that the seat and base are installed correctly, and newer electronic models such as the Maxi-Cosi 360 Family fix or 2wayfix base will even bleep at you if it isn't!
IsoFix Storage Compartment Check
If using an Isofix base with a leg tensioner, make sure you have no storage compartment in the footwell of the car, as the lids are often not reinforced to withstand any pressure. If you are, unfortunately, involved in any impact, you certainly don't want this!
Placing your Child into The Car
Always place your child in their car seat at the rear of the car! This is always the safest place for them.
Front Car Seat Tip
If you choose to use the front seat for your child, especially for infant carriers, make sure you turn the air bag off!
Seat Belt Buckle Crunch
When using a seat belt to fit the car seat into your car, make sure you do not have a 'Buckle Crunch'. It should be the seat belt that hold your child in the correct position and safe, not any part of the buckle.
Make sure the Seat Belt isn't Twisted
Seat belts should always be fixed tight when you are using them to install a car seat; however, they shouldn't be twisted. Double check before you click the belt in, and always refer to the guides on the seat to make sure you have correctly routed the seatbelt when fastening.
For group one car seats such as Maxi Cosi, Toby or Joie Stages, which remain fastened in the car once fitted, make sure you have the correct tension on the seat belt and ultimate fit. It is also recommended that you regularly refit the seat.
Fitting Your Car Seat
When fitting your car seat, make sure that at least 90% of the bottom of the car seat or base is touching the seat of the car!
Is the Harness Tight Enough?
Instore, one of the frequent questions we get asked is "how can the child be prevented from getting out of their car seat harness?"
Car seat harnesses are height adjustable and, therefore, should always sit on the shoulder of the child or one inch above shoulder height, making sure it's fitted tight and is all snug! By doing so, you can minimise the chances of your child getting out of their harness. Here is a handy diagram from Maxi Cosi, which is a great guide to go by.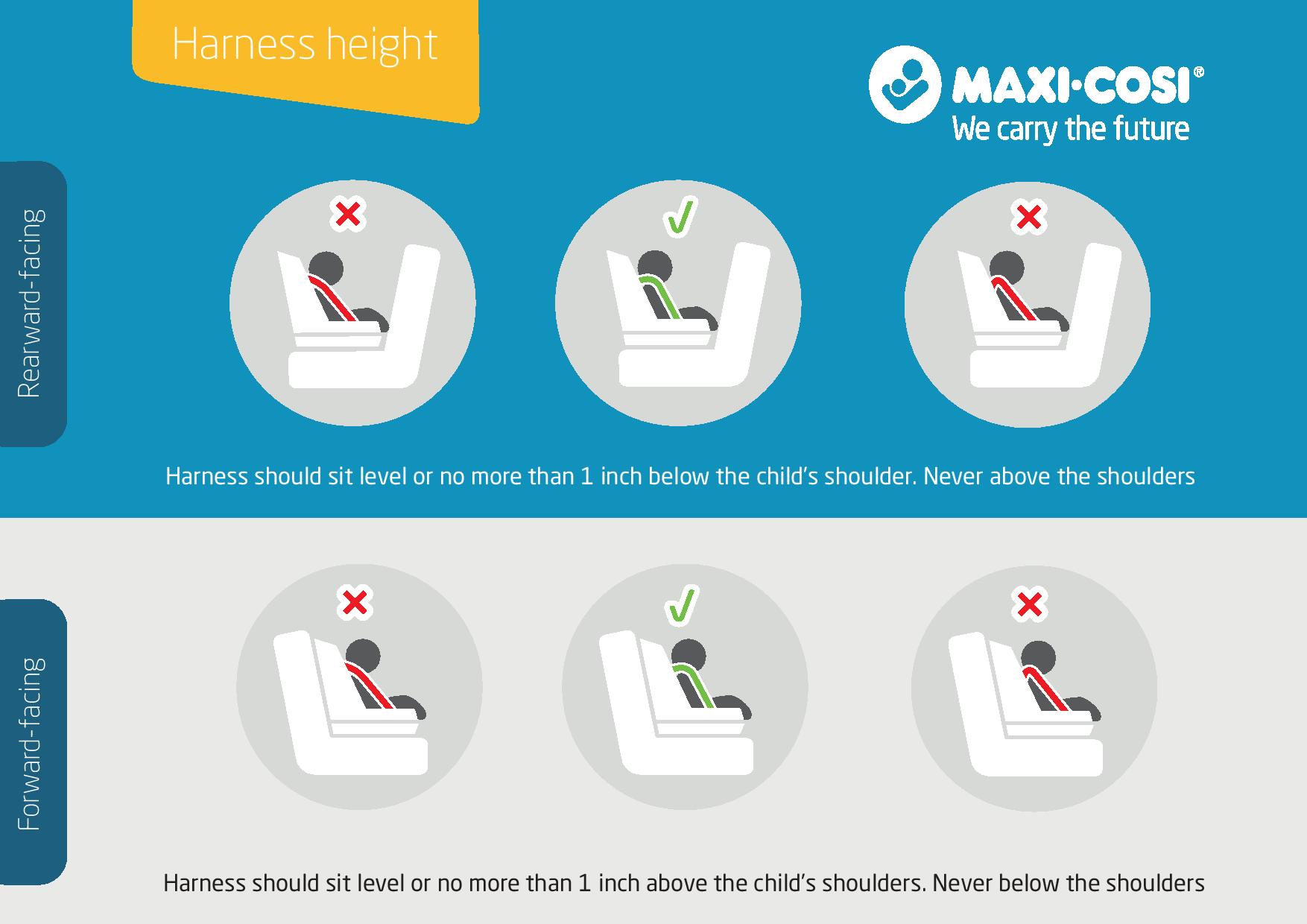 What Car Seat Legislation are you Following?
Whether this be the R44 or i-Size regulation, both are currently running side by side, though they do have separate laws to follow.
For example, if you are using an i-Size car seat, you must keep your child rear-facing up to a minimum of 15 months, but after this point they can remain rear-facing up to the age of 4. You can then place them forward-facing.
Make sure you know what legislation you are following but, above all, make sure you are following one!
Becky's top ten tips only brushed the surface of car seat safety, but hopefully we have provided you with a quick overview and understanding of just how important it is!

At
Simply Baby
we love to talk car seat safety and we are more than happy to provide any extra advice or information that you may be looking for! In light of some recent regulations regarding high-backed boosted seats, some extra information may not go amiss.
We stock a fantastic range of car seats, including top, reputable brands such as Maxi-Cosi, Cybex, Joie, Doona and Silver Cross, so why not pop into the store, come say hello, look at our range of highly safe and secure car seats, and even get some free advice from Becky while you're there! We look forward to welcoming you.